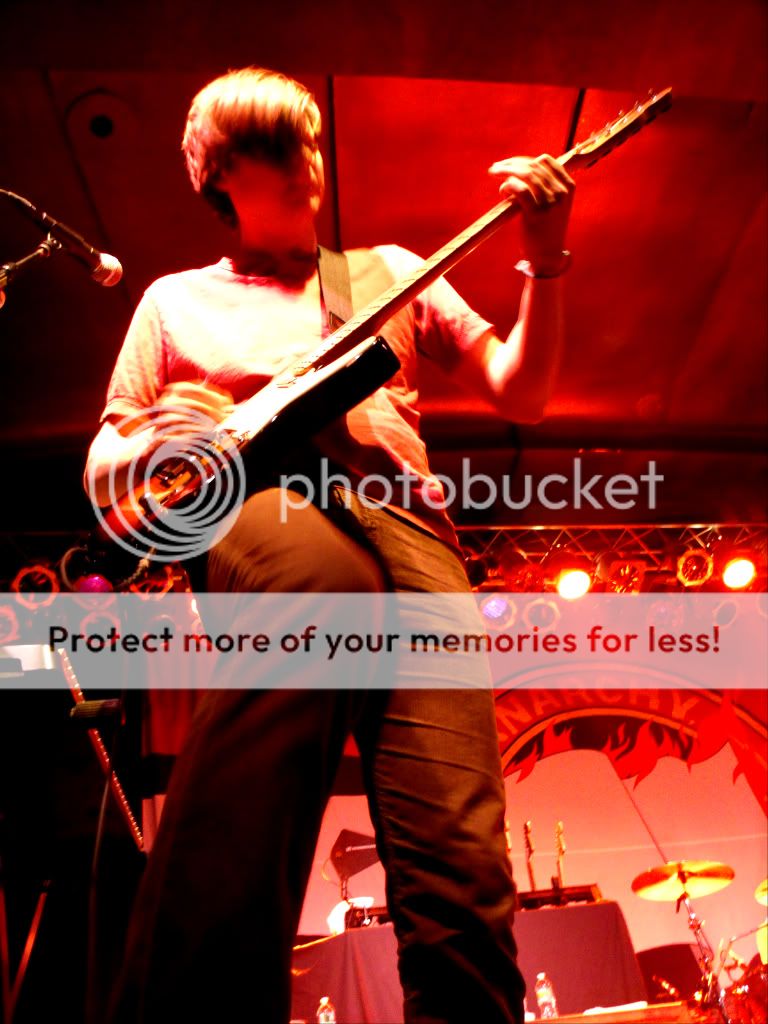 In 2004 when
Say Anything
released their first widely distributed album,
…Is a Real Boy
, it was a revolution to me. I was largely over emo but
Say Anything
mixed emo pathos with influences of math rock and punk to create something that was emotional but far from wussy. Since that time the band has released five albums but none have recreated
…Is a Real Boy
or its follow up,
…Was a Real Boy
's success in my mind. Over the last 8 years, lead singer Max Bemis has gone through personal changes like being institutionalized and getting married. Through this Bemis has emerged a more well-adjusted yet equally eccentric person as when he first started. The thing that is missing from Say Anything's latest work from their early work is Bemis' anger which he admits as much on stage.
When Max Bemis and company emerged from back stage on this Monday night in Hartford a fairly filled Webster Theatre greeted them with hefty applause. The crowd was a mixture of high school students whose parents allowed them out late on a Monday night and tatooed and pierced college kids. The crowd generally made your 27-year-old writer feel old but most shows in Hartford do.
The feeling of being the oldest man there quickly dissipated as the band jumped right in to "Spider Song" magically transporting me to 2004 when I first saw Say Anything at the Webster when they were playing a sparsely attended concert in the small Webster Underground rather than the Theatre. To my surprise, the crowd seemed to know every word of the song. Bemis strutted upon the stage like a mini-Mick Jagger taking time to hold the microphone out to the crowd to sing along. His motions on stage were a combination of moves from
Madonna
's "Vogue" and
Avril Lavigne
's "Sk8terboi" videos. Were the moves distracting? A little but moreso they just seemed emblematic of someone who looked incredibly uncomfortable and was trying to hide this fact behind a mask of cliche rockstar moves.
Although I was able to stick with the band through "Spider Song," a track I was familiar with, as the set wore on the band lost me a little. As they played through tracks from their last three albums,
Anarchy, My Dear
,
Say Anything
, and
In Defense of the Genre
, I could feel my interest waning. For the crowd's part, I will say they had much more interest than me. Even through slower songs like "So Good" and "Eloise," the crowd stuck by and sung along.
I never strayed too far during the set as the band managed to sprinkle in classic from
…Is a Real Boy
and
…Was a Real Boy
like "Belt," "Wow, I Can Get Sexual Too," "Every Man Has a Molly," and closing out the set with "Alive With the Glory of Love." The band even came out for an encore of "Admit It" from
…Is a Real Boy
followed by 2012's
Admit It Again
, an oddly angry way to end the night.
Throughout the show Bemis commented on how this was one of the best nights on tour with the raucous Hartford crowd but he could have been blowing hot air. Even I was impressed with the crowd, they knew the lyrics, they shouted them out, they danced (as best you can to odd time changes), and they got sweated: all hallmarks of a great show. For my discerning ears, the show was a little better than I had expected from a band I had lost touch with for the past half-decade or so but it largely reaffirmed why I had lost touch with them. Say Anything last few albums have just not packed the same punch of their earlier work for me. Who knows if it is I have changed or them but I fear I felt old at the show because I am now longer their main demographic.
[soundcloud url="http://api.soundcloud.com/tracks/26643600″ iframe="true" /]